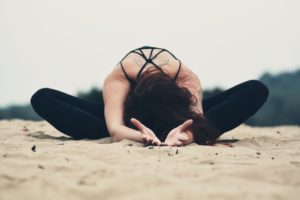 De eerste twee 'relax & restore' yogalessen van vorige week stonden in het teken van het thema aarde(n). De prachtige nazomer waar we op dit moment midden in zitten hoort bij het element aarde. Na het voorjaar waarin we gezaaid hebben en de zomer waarin alles tot bloei is gekomen is nu de periode aangebroken van oogsten; en van het genieten van wat we gezaaid hebben.
Hoewel het nog heerlijk warm kan zijn, kunnen de nachten al flink koeler aanvoelen, begint het weer iets wisselvalliger te worden en kondigt de herfst zich aan. Het 'vata' seizoen breekt aan. Dat betekent dat, zeker wanneer je hier gevoelig voor bent, je wat meer last kunt hebben van onrust (in je hoofd en in je lijf), je misschien wat slechter slaapt (en 's nachts ligt te draaien en te woelen in je bed), of wat meer moeite hebt je te concentreren. Misschien merk je dat je huid wat droger wordt, of dat je gewrichten wat stijver kunnen aanvoelen.
Het kan dan helpen om onder andere in je yogapractice wat meer houdingen te doen die je helpen om te aarden. Heerlijke vooroverbuigingen zoals bijvoorbeeld een butterfly pose en een supported child's pose kunnen je bijvoorbeeld helpen om je gedachten wat tot rust te brengen en te ontspannen. Ook de wisselende ademhaling (nadi shodana) waarbij je afwisselend met je duim eerst je ene en vervolgens je andere neusgat afsluit tijdens de ademhaling kan je helpen om wat meer balans en rust te brengen wanneer je daar behoefte aan hebt tijdens de soms onstuimige herfstmaanden die voor ons liggen.